Hot Shot Secret Diesel Winter Anti-Gel
From FICMrepair.com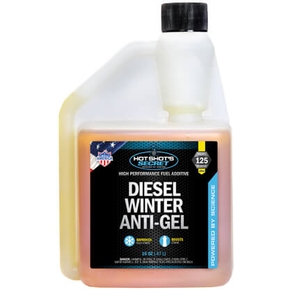 This 16 oz. bottle treats 200 gallons of diesel fuel or 100 gallons of biodiesel, lowering the pour point down to -65° F!
Diesel Winter Anti-Gel provides "Premium Diesel" qualities to standard diesel fuels in terms of detergency, stability, lubricity, winter operability and cetane number. Its effective anti-gel additive greatly improves cold temperature performance. Additional properties provide further winter protection against freeze-ups. In addition, Diesel Winter Anti-Gel contains a powerful cetane improver for quicker cold starts and a maximum boost in power and performance.
For use in ALL diesel engines.
*Guaranteed -65° F when added to diesel fuel.
Minimum recommended product storage: -20° F