Mishimoto Ford 6.0L Powerstroke High-Temperature Thermostat MMTS-F2D-03H
From FICMrepair.com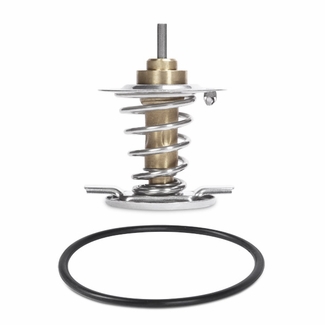 Mishimoto Ford 6.0L Powerstroke High-Temperature Thermostat
Mishimoto Racing Thermostat: Mishimoto Racing Thermostats will promote greater cooling efficiency throughout your engine. The Mishimoto racing thermostat will significantly lower high engine temperature produced by modified and upgraded turbo applications. Once the engine is fully warmed up the Mishimoto racing thermostat will open up at a lower temperature than standard thermostats, also allowing the coolant to flow through the engine sooner thus reducing and maintaining cooler engine temperatures.
Comes with LIFETIME warranty from Mishimoto!
Note: This thermostat will directly fit in many 6.0L engines, but note that earlier motors likely came with a prior design of the thermostat housing. So...if you have the updated Ford Motorcraft RT-1169 thermostat housing, you will have no issue. If you don't or don't know, however, you may wish to couple this thermostat with the custom thermostat housing manufactured by Mishimoto that will ensure that you have no issues with the install.