5R110 6.4 HD Pan
From FICMrepair.com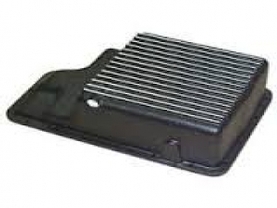 This pan supports the pleated filter available in the 08-10 6.4L Powerstrokes and provides:
* An Extra FOUR QUARTS of capacity
* Sand cast aluminum construction
* 3/16 thick gasket flange to prevent bending when bolts are tightened
* Machined gasket surface
* Magnetic drain plug
NOTE: Powercoated Black Pan OPTION depicted. This item is for a BARE CAST ALUMINUM pan. Contact Us if you'd like the power-coated option for $50 more.