5R110 Full Upgrade Kit
From FICMrepair.com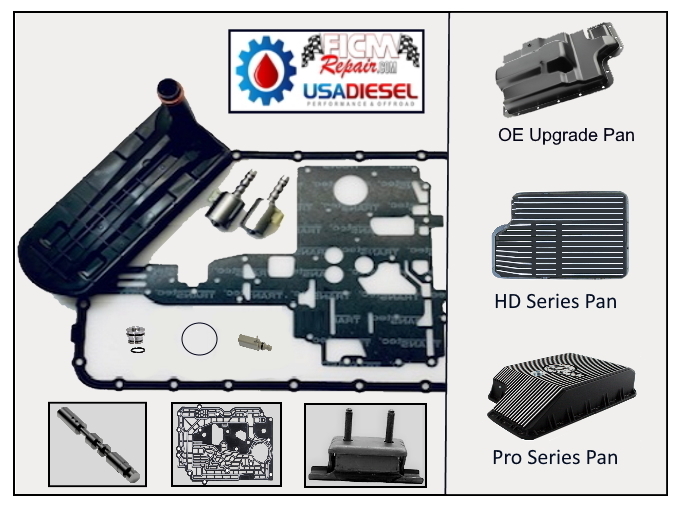 This kit includes:
* 03-UP 5R110 Stage 2 Direct Solenoid
* 03-UP 5R110 Stage 2 EPC Solenoid
* 5R110 03-UP filter for 08 pan
* 5R110 6.4 Heavy Duty 3/8" thick cast aluminum pan
* 5R110 Molded rubber gasket
*5R110 Valve body gasket
*Transmission Dummy Plug - Qty:1
...for less then purchased individually.
For the Transmission Dummy Plug:
Most 2003 transmissions will have five pressure switches that will need replacement. 2004 transmissions could have one to five pressure switches. 2005 and after transmissions will only have one switch. Some trucks will have a plastic dummy plug installed in place of a switch. These plastic plugs are also failure prone and should be replaced with a steel plug. Note that if your transmission has previously been rebuilt it may be that the factory switches / dummy plugs could have already been eliminated. We recommend either just picking up five plugs so that you are guaranteed to have the quantity you need or dropping the pan first and looking prior to ordering.
NOTE: Powercoated Black Pan OPTION depicted. This item is for a BARE CAST ALUMINUM pan. Contact Us if you'd like the power-coated option for $50 more.