IPR External Oil Cooler Kit
From FICMrepair.com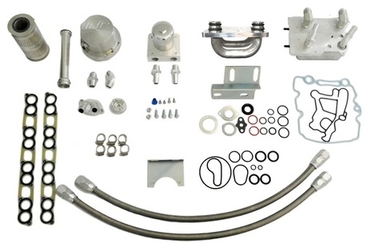 IPR's external oil cooler kit is now available! The benefits of using this kit will allow the coolant to be filtered at 100% duty cycle with IPR's High Flow Coolant Filter which uses a serviceable stainless steel filter element. The optional coolant filter in this kit is not a bypass filter like most other "coolant filter kits" on the market where they are designed as a bypass filtration that filters only 10-15% of the coolant. IPR's coolant filter is designed to filter out 100% of the coolant "before" it enters the externally mounted oil cooler. The base kit does not include a coolant filter. IPR highly recommends ordering your kit with the optional HIgh Flow Coolant Filter. The additional benefits of an externally mounted oil cooler is that the oil cooler is allowed to work more efficiently and can be plumbed to run 2 oil coolers for additional cooling efficiency. The OEM internally mounted design inhibits more heat when mounted inside the engine block bathed in hot oil.
IPR's external mount design will save you thousands of dollars in labor if a oil cooler is to ever fail again by allowing the technician to replace oil coolers in less than 20 minutes. An average labor cost to replace a OEM oil cooler can cost upwards of $600-$900 plus the cost of an new oil cooler $350. This kit will pay for itself if you have 1 oil cooler failure. This kit retails for $1149 and includes a new OEM oil cooler.
The coolant filter is capable of filtering sand and oil trapped during the first 500 miles, these photo's were taken after the coolant was flushed about 10 times to remove the oil that was in the coolant when our test truck's OEM oil cooler failed. Based on this particular test we learned that regardless of how many times you flush your coolant prior to installing a new oil cooler, the new oil cooler will just end up plugged up the first 500 miles if a coolant filter is not installed.