IPR GEN3 EGR Delete Kit for 2003-2007 Ford Powerstroke 6.0- Fits F250, F350, F450, Excursion
From FICMrepair.com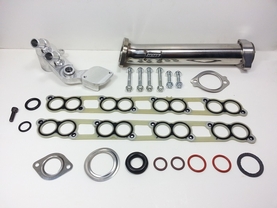 The IPR GEN3 Delete Bypass Manifold is the first true one-piece patent pending kit on the market that bolts on to the factory oil cooler housing without any hoses, hose clamps or welded joints. This is a superior design compared to all other delete kits on the market which are susceptible to leaking or failures.

By manufacturing this as a one-piece design, the connection hose which retails for $40 from the delete tube to the oil cooler water jacket housing has been eliminated. The oil cooler water jacket housing is also eliminated. Save the $75 spend on the OEM water jacket housing when yours corrodes at the nipple and starts pitting. Install this delete bypass manifold and never worry about the water jacket nipple leaking, failures at weld joints, leaking hoses or failed hose clamps.
The IPR GEN3 delete bypass manifold is precision CNC machined so it will fit perfectly every time.
The IPR GEN3 delete bypass manifold is a great diagnostic tool to isolate and test the EGR system and verify continued head gasket integrity. All modern diesel engines that utilize a EGR cooler require coolant to cool the exhaust gases. When an EGR cooler or components of it fail, it often simulates a blown head gasket. It may be impossible to determine whether a head gasket has failed, if an EGR component is leaking, or if both are the case without a tool such as this.
We recommend this product for testing and diagnostics only as any engine fitted with it should never be used or operated on a public highway to ensure continued compliance with US law. This product is not legal for sale or use on pollution-controlled motor vehicles anywhere in the United States. It is legal ONLY for off-road competition racing vehicles and cannot be used on vehicles that are operated on public streets, roads or highways. This product's SOLE PURPOSE IS TO BE USED AS A DIAGNOSTIC TOOL.
This kit comes with an exhaust block off plate, but an up-pipe is also available for an additional $40.
Also available is an IPR Extreme Duty HPOP Filter Screen for $69. Choose to pick this up and never worry about another punctured HPOP screen that may well result in IPR valve or high pressure pump failures.