Regulated Fuel Return System
From FICMrepair.com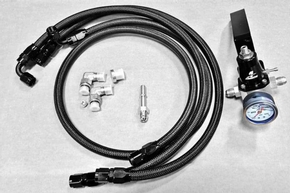 Tired of being scoffed at by the common rail Cummins guys? Know deep down that their fuel system is better? Install this kit and enjoy life!
By installing a regulated fuel return kit, you eliminate the "dead heading" of the injectors at the back of the block. This 'drinking what's left over' effects the longevity of your #7 and #8 injectors most notably and commony results in their early demise. This kit allows fuel to act like an 'endless river' in the water park, letting each injector get the same access to fuel at the same fuel pressure regardless of its location in the head.
The kits uses 1/2" lines, works great with aftermarket fuel systems such as is offered through FASS or AirDog, eliminates the use of the factory fuel bowl thus eliminating the need for the 'blue spring kit', and cleans up the valley of your engine.
Note: If you'd like to retain your factory fuel bowl which would in turn allow the continued use of the factory fuel system, please note that at checkout and we'll deduct $189.95 from your cost!
With this kit, you get:
* fuel pressure regulator replacement
* a fuel pressure gauge
* a stainless steel mounting bracket for the regulator/gauge assembly
* return plug
* all braided hoses necessary to keep the system moving
* the two fittings for the rear of each cylinder head