Transmission dummy plug
From FICMrepair.com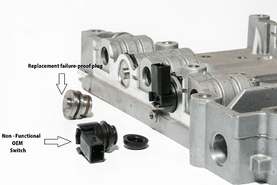 2003 - 2010 Ford Truck Owners
For only a few dollars and minimal labor, you can potentially prevent a catastrophic transmission failure and a costly rebuild!
APPLICATIONS:
2003 - 2010 F250, F350, F450, F550 Ford Super Duty Truck
2003 Excursion
2003-2011 E250, E350 Econoline Van
2006 - 2009 Ford LCF
Engines: 5.4L and 6.8L Gas, 6.0L Powerstroke Diesel, 6.4L Powerstroke Diesel

Many Powerstroke owners spend thousands of dollars 'bulletproofing' their engines. How about showing the transmission a little love?
The PROBLEM:
The 5R110W Torqshift transmission came equipped with dummy pressure switches in the valve body that were never used or monitored by the computer in any production vehicle. These plastic / rubber switches are prone to failing from heat and leaking or blowing out of the valve body. This causes a drop in transmission line pressure, missing up-shifts, slipping clutches, and ultimately transmission failure.
Trucks that have performance programmers usually have higher shift pressures - and will be more likely to experience pressure switch failure.

The SOLUTION:
Replace the unused pressure switches with machined steel o-rings plugs that will never fail! Once the transmission pan is removed it takes only minutes to perform this upgrade.
INSTRUCTIONS:
Drain Fluid and Remove Transmission Pan
Locate the pressure switches
Most 2003 transmissions will have five pressure switches that will need replacement. Many later trucks only have one switch. 2004 transmissions could have one to five pressure switches. 2005 and after transmission will only have one switch. Some trucks will have a plastic dummy plug installed in place of a switch. These plastic plugs are also failure prone and should be replaced with a steel plug. Note that if your transmission has previously been rebuilt it may be that the factory switches / dummy plugs could have already been eliminated. We recommend either just picking up five plugs so that you are guaranteed to have the quantity you need or dropping the pan first and looking prior to ordering.
Remove the retaining clip and remove the pressure switch or plastic dummy plug
Install a steel replacement plug and replace the factory clip. Be sure to verify that the factory clip securely retains the plug. In some cases it may be necessary to re-shape the clip with a pair of pliers if it has become deformed.
Use wire ties to retain unused electrical connectors to the transmission wiring harness