Ford F250/F350 Super Duty 4x4 Ball Joint kit
From XRF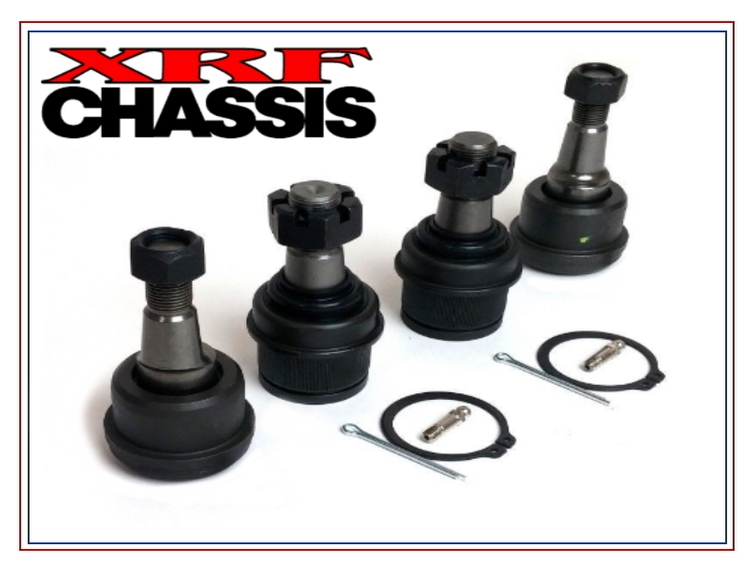 Our lifetime-guaranteed XRF ball joints are built to perform under the most severe conditions like the oil patch and logging sites.
Tired of failed ball joints from those 'other' brands? Upgrade to these babies and never have a ball joint issue again. EVER.
XRF Ball Joint Features:
Cold forged ball stud of SAE4140 steel
Stud heat treatment for omni-directional strength
Triple lip boot seal to keep grease in and dirt out
Forged housings of SAE1045 steel give XRF ball joints the extra strength to have almost double the stud pull-out strength of our competitors
XRF Zero-Lash ball joints have a ball stud that is fully encapsulated in a high strength acetel bearing offering superior load disbusement and longer life.
XRF was founded fourteen years ago on four main pillars:
To build the strongest, longest-lived parts in the industry
To engineer a part that is quick and easy to install correctly
To design a part that is very pleasing to the eye and instills customer confidence
To price these "New World Benchmark" parts so that everyone can afford quality and safety
Have a $5.00 family? Then by ALL means, get $5.00 ball joints!
Note: This kit includes four ball joints - two upper ball joints and two lowers. We always recommend replacing ball joints in sets.