99-2004 Ford F250-F350 Super Duty 4x4 All models Steering Kit
From XRF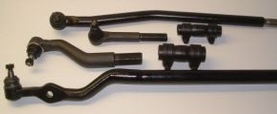 This XRF Million Mile Warranty Steering Kit includes:
1 - DS1438 RH Inner Tie Rod
1 - DS1439 RH Outer Tie Rod
1 - ES3423 LH Outer Tie Rod
1 - ES3427 LH Inner Tie Rod
1 - ES3422S LH Adjusting Sleeve
1 - ES3426S RH Adjusting Sleeve
Both XRF tie rod ends are made to be much stronger than OEM.
XRF uses SAE1045 and SAE4140 steel on these parts to give greater strength and durability. OEM stud pull-out specification is >2550kg, while XRF stud pull-out tests at >4520kg.
XRF's stronger housings allow us to increase our stud swing from 22 degrees to 23 degrees to give greater wheel travel and prevent ball stud cam-out on slippery roads or when the wheel falls into a pothole.
Never used XRF? Prepare to be blown away by how awesome this kit is. Combine it with their ball joint kit and you too will have a completely rebuilt front end! This WILL BE the last set of steering parts you buy for your truck!
All parts come with a LIFETIME WARRANTY.