Warren Diesel Remanufactured 175/30 injectors
From FICMrepair.com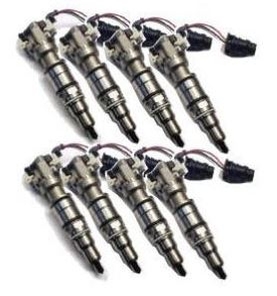 Rebuilt 6.0L Powerstroke injectors from Warren Diesel. Options are to run OEM parts with these injectors, reconditioned spool valves, or upgraded solenoids with reconditioned spool valves. 175/30 in sets of 8. Cores are to be sent to Warren Diesel directly.
Note: To get the maximum performance from these injectors, you will need an upgraded turbo and fuel system (regulated return and stronger fuel pump) along with custom tuning.
Note2: By upgrading EITHER just the spool valve, the warranty on this product moves from six months to one year.
Please contact us.