KC Turbos 6.0 POWERSTROKE STAGE 2R DUAL BALL BEARING TURBO
From FICMrepair.com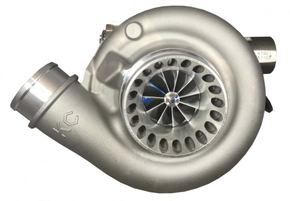 Are you ready for the for the fastest spooling, most powerful stage 2 turbo on the market?
This is a real game changer for the 6.0 world. A dual ball bearing stage 2 vgt turbo that is a 100% drop in application and is guaranteed to spool faster and make more power than any other stage 2 turbo on the market.
This turbo works great on stock injectors, but is capable of 600-650hp with larger injectors and supporting mods. It has great street manners and will make your truck feel lighter and more fun to drive. KC Turbos highly recommend 190/30 injectors to pair with this turbo.
The stage 2r is also great for towing in any application. You really can have your cake and eat it too with this turbo.