6.0L Deluxe Wiring Kit
From FICMrepair.com

Upgraded charge cables are a much-needed upgrade when purchasing a new high output alternator. The factory wiring harness was designed specifically for the stock alternator's output. When a high output alternator is put into the equation, the stock wiring can't transfer the power that the new larger alternator creates.
By adding upgraded wiring, the vehicle's charging system will keep the batteries, and of course the FICM and other various accessories running at their best without any difficulties of getting the power they need.
The Deluxe Kit includes everything from the Basic Wire Kit:
1/0 Cable from Alternator to Fuse Block (Red)
1/0 Cable from Fuse Block to Passenger Battery Positive (Red)
1/0 Cable from Alternator Mounting Bolt to a direct ground
Fuse Block
250 amp fuse
Zip Ties (3)
... and everything from the battery Interconnect Wire Kit:
4/0 Battery Interconnect Cable (.75" copper core)
1/0 Engine Block Ground
2pcs 6" Dual Wall Adhesive lined heat shrink tubing
All required hardware
Everything needed to completely upgrade your charging system's wiring is included, pre-measured, and ready to go! No special tools necessary, and instructions will be provided to make for an easy install!! Installation can be completed in as little as 30 minutes.
6.0L Ground CABLES ONLY - If you also want to replace the old battery ground cables while your at it, or are just doing the ground cables alone, here's the link to that kit:
6.0L Left & Right Battery GROUND CABLES ONLY
For More information on why upgrading is important click here: Voltage & Wiring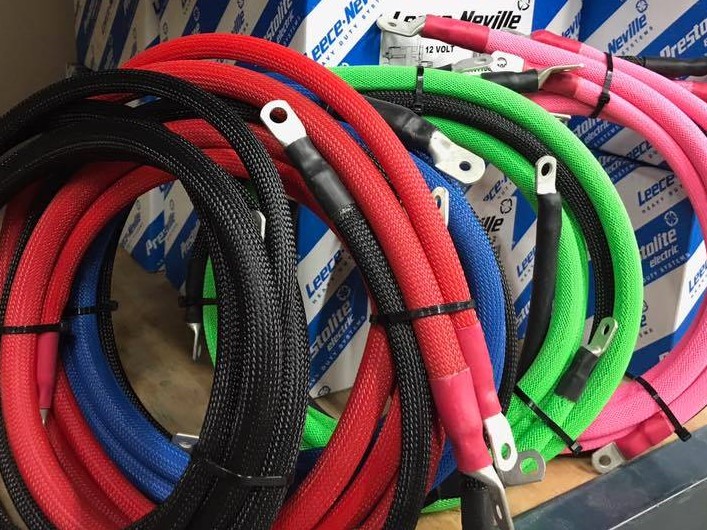 Need something custom? Contact us to get the ball rolling!
Here are some other items you may be interested in: